Brava uses coordinated pulses of light to cook hotter, faster, and with more precision than anything your kitchen has ever seen.
A perfect cook on demand.
Every recipe program is chef-tested and tailored specifically to the ingredients you're cooking. Precision heating elements paired with chef-driven recipes guarantee consistent, delicious results you can trust.
Faster, healthier choice.
Make delicious whole foods and vegetables your "easy weeknight meal"—Brava makes it quicker and easier to get the right things on the table by cooking those healthier foods fast and with flavor.
An unrivaled sear.
Wood-fire crusts and sizzling cast-iron browning, all in one place—Brava's lights generate almost twice the heat of a traditional oven to give pizza that restaurant chewiness and steak that Maillard crunch.
An automated sous chef.
Brava can switch between cooking methods, sauteeing to roasting to frying. That means less time standing over the stove, more time with the family.
A complete meal, presto!
Brava's unique multi-zone functionality allows you to cook a complete and balanced meal on one tray at the push of a button.
Food cooks quicker than ever.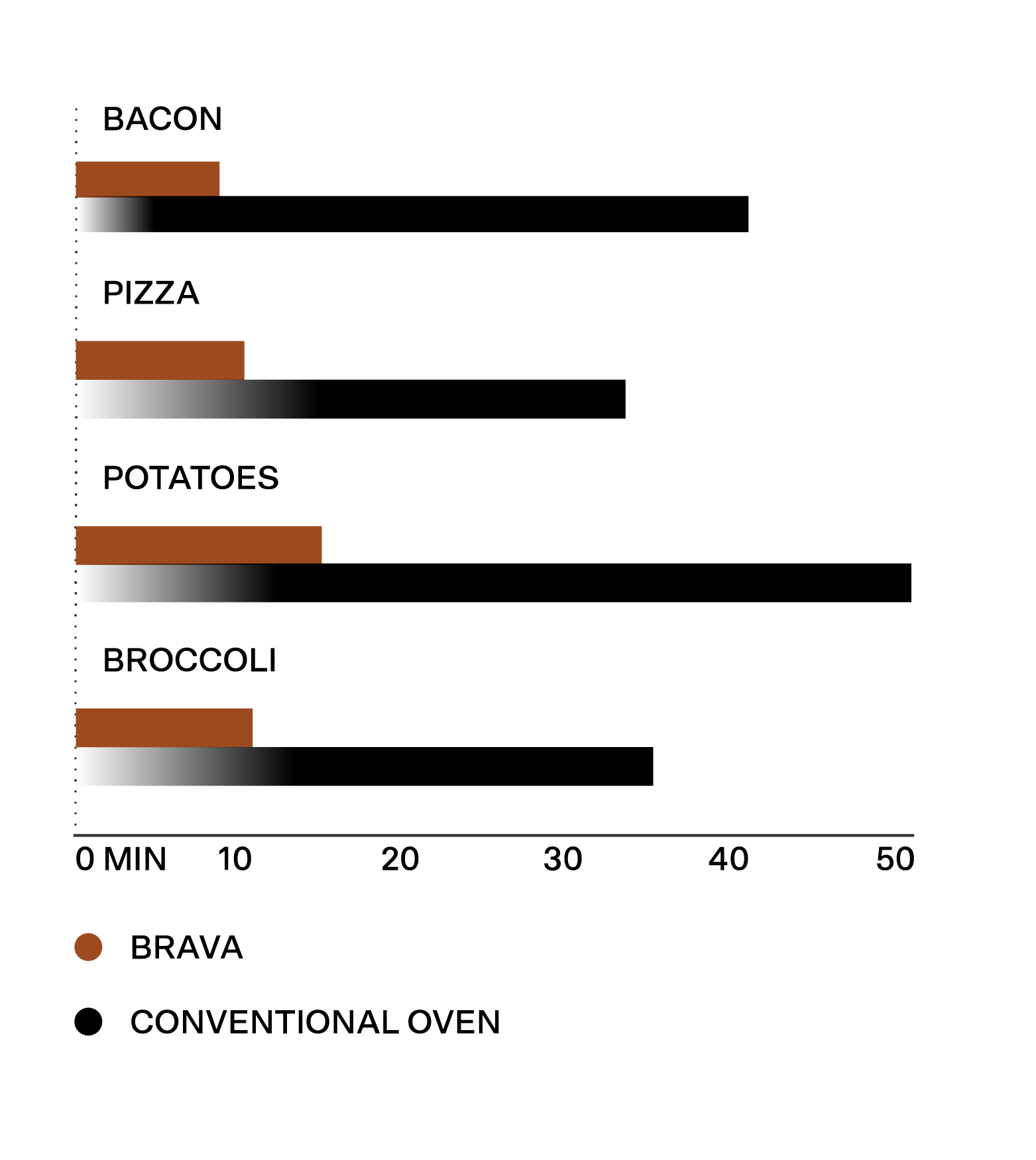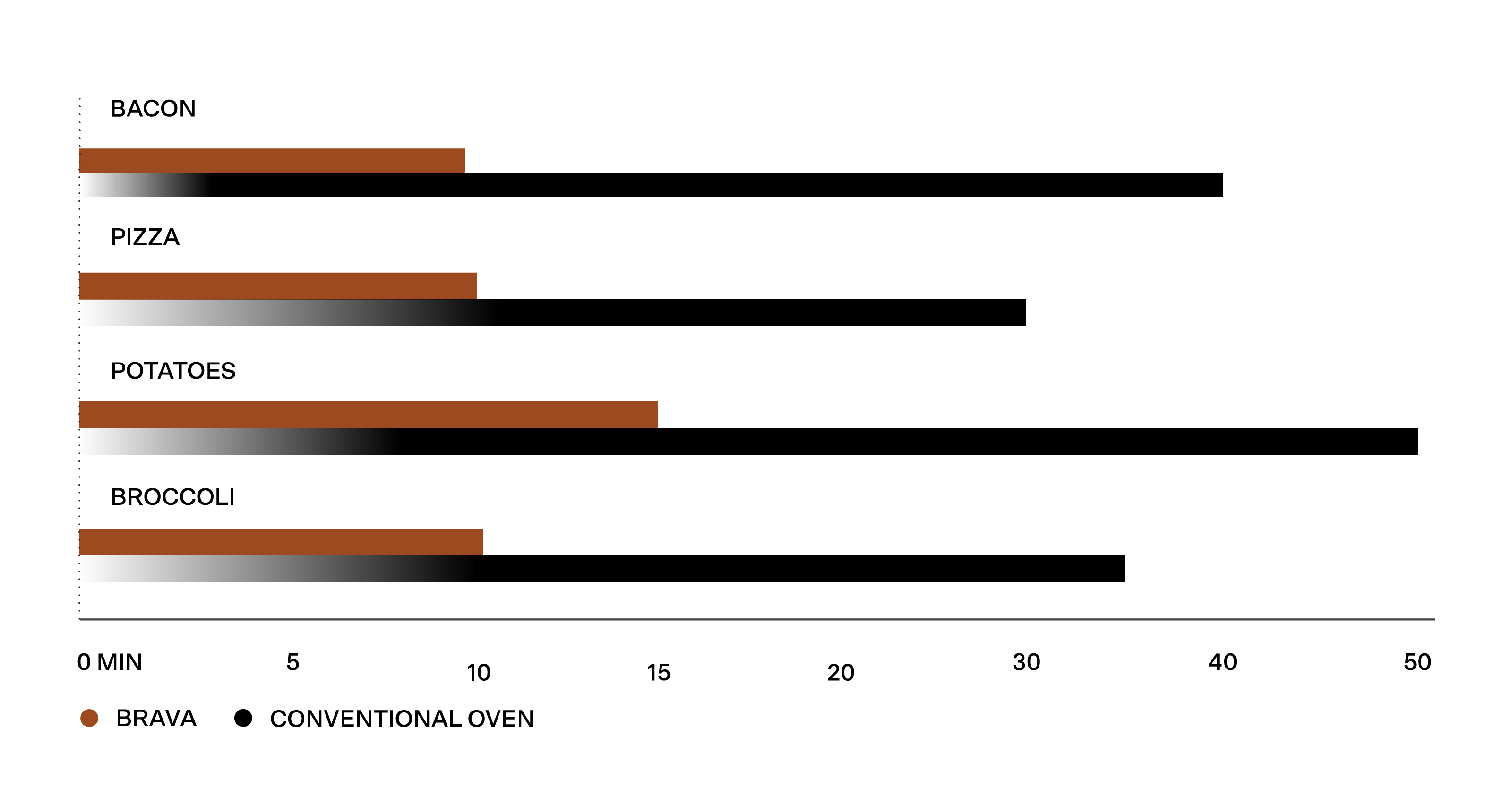 Thousands of combinations.
Select your protein then add a vegetable - even add a third! Thousands of ingredient combinations are possible with Brava.
See the Recipes
The Brava team and community are constantly cooking together to help you learn to make, share, and enjoy perfect dishes with your Brava.
LIVE DEMOS
Weekly team hosted demos to help you learn more about Brava.
CUTTING EDGE CULINARY
Go behind the scenes to see how Brava works its magic in the kitchen.
What home chefs do with the power of light.
Revelation
Vegetables have been a real revelation in the Brava.
Essential
I don't want to know cooking without it. It simplifies everything.
Love Cooking Again
I didn't enjoy being in the kitchen till now. I can't recommend my Brava enough.
In the news
"The microwave oven did not revolutionize home cooking. Nor did sous-vide gadgetry. Now there's a new contender: the Brava Oven..."
"Brava is the Tesla of ovens."
"It's like having a professional chef at home. Except you're the chef, and Brava is the professional."
"Brava is among a select cadre of modern wonders worthy of your marveling."
"This thing changed my life…The possibilities are endless for such a compact appliance."
"[One of] The Best Smart Kitchen Appliances for 2020"
Bring Brava Home.
Start cooking with light.
Brava cooks food to perfection using pioneering light technology that brings unparalleled heat, speed, and precision to all your favorite meals.
100 Day Free Trial
THE BRAVA
TempSensor
2 Cook Trays & Accessories
Shop Now
Worry Free Returns
Return your Brava for a full refund within 100 days of purchase if you don't love it.
No APR, No Late Fees
Get the Brava for 0% APR*, and no late fees.
1-Year Limited Warranty
Your Brava comes with a one year limited warranty that also covers all accessories.
*Subject to credit check and approval. Down payment may be required. For purchases under $50, limited payment options are available. Estimated payment amount excludes taxes and shipping fees. Affirm loans are made by Cross River Bank, a New Jersey State Chartered Commercial Bank, Member FDIC. See www.affirm.com/faqs for details.